ESE PhD Thesis Defense: "Affordances and Control of a Spine Morphology for Robotic Quadrupedal Locomotion"
December 6, 2019 at 3:00 PM

-

4:30 PM
Abstract: How does a robot's body affect what it can do? This talk explores this question with respect to a morphology common to biology but rare in robotics: the presence of a bendable back. Using the Canid and Inu quadrupedal robots, I describe and quantify several advantages afforded by this morphological design choice for legged machines that can be evaluated against the spine's added weight and complexity. Additionally, I discuss control strategies related to quadrupedal running with a spine.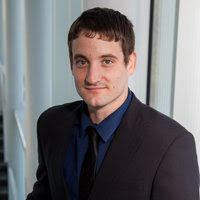 Jeff Duperret
PhD Candidate, Penn Electrical and Systems Engineering Dept.
Jeff Duperret is a Ph.D. candidate in the Department of Electrical and Systems Engineering at the University of Pennsylvania. He received B.S.E degrees in electrical engineering and computer science from the University of Michigan in 2011. His current research interests include reactive control strategies for legged locomotion and investigating how robot morphology influences behavior and control.