The Harold Berger Distinguished Lecture and Award
The Harold Berger Distinguished Lecture and Award, named in honor of the Honorable Harold Berger, is awarded biennially by the School of Engineering and Applied Science to a technological innovator who has made a lasting contribution to the quality of our lives. Special emphasis is given to the societal and economic significance of an advance.
2022 Harold Berger Distinguished Award: Drew Weissman and Katalin Karikó
Penn Engineering is proud to announce the 2022 Recipients of the Harold Berger Award: Drs. Drew Weissman and Katalin Karikó for their "landmark research that set a foundation for the mRNA SARS-CoV-2 vaccines."
Dr. Weissman is the Roberts Family Professor in Vaccine Research in the Department of Medicine in Penn's Perelman School of Medicine. Dr. Karikó, Adjunct Professor in the Perelman School of Medicine, is the senior vice president of biotech company BioNTech, which is based in Germany.
Drs. Weissman and Karikó collaborated to discover the ability of modified nucleosides in RNA to suppress activation of innate immune sensors and increase the translation of mRNA containing certain modified nucleosides. Their nucleoside-modified mRNA-lipid nanoparticle vaccine platform was used in the first 2 approved COVID-19 vaccines by Pfizer/BioNTech and Moderna.
On Tuesday, March 29, 2022, Dr. Weissman presented the Department of Bioengineering's Herman P. Schwan Lecture titled "Nucleoside-modified mRNA-LNP therapeutics."
Past Recipients
2011: Steven Chu – for his distinguished scientific career and his stewardship in the search for alternative and renewable energy technologies.
2008: Thomas Cech – for his ground-breaking research on RNA and its transformational impact on biotechnology
2004: Dean Kamen – for his creative use of technology to advance health care and his unwavering championing of engineering education.
2002: J. Craig Venter – for his creative use of advanced technology and for his leadership role in the sequencing and analyzing of the human genome.
The Honorable Harold Berger (EE' 48, L' 51)

Managing Partner, Berger and Montague, P.C.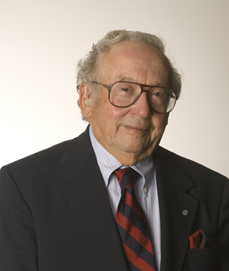 Judge Berger is Managing Partner of Berger and Montague, P.C., a Philadelphia-based law firm. He formerly served as Judge of the Court of Common Pleas of Philadelphia and is past Chairman of the Federal Bar Association's National Committee on the Federal and State Judiciary. He is the author of numerous law review articles, has lectured extensively before bar associations and at universities and has served as Chair of the International Conferences of Global Interdependence held at Princeton University. Judge Berger has served as Chair of the Aerospace Law Committees of the American, Federal and Inter-American Bar Associations and was elected to the International Academy of Astronautics in Paris in recognition of the importance and impact of his scholarly work.
As his biographies in Who's Who In America and Who's Who In American Law outline, he is the recipient of numerous awards, including the Special Service Award of the Pennsylvania Conference of State Trial Judges and a Special American Bar Association Presidential Program Award and Medal. Judge Berger is a permanent member of the Judicial Conference of the United States Court of Appeals for the Third Circuit. Long active in engineering and law alumni affairs at Penn, he also serves as Chair of the Friends of Biddle Law Library.