Technology, Business and Government Distinguished Lecture Series
Recognizing an increasingly significant inter-relationship between the rapid growth of new technologies and the business and governmental sectors, this lecture series brings distinguished individuals to Penn Engineering to interact with students and faculty on broad issues affecting technology and science, research and policy.
Featured Lecture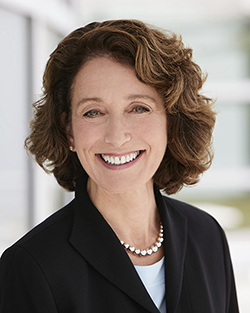 Dr. Susan S. Margulies

Assistant Director of NSF, Engineering Directorate;
Professor of Biomedical Engineering Georgia Institute of Technology and Emory School of Medicine; GRA Eminent Scholar in Injury Biomechanics
"NSF Engineering: Transforming our World for a Better Tomorrow"
Thursday, May 12, 2022
1:00 – 2:00 p.m. EDT
This event will be held in a hybrid format in the Wu and Chen Auditorium in Levine Hall (3330 Walnut Street).
This event was not recorded.
You can view Dr. Margulies' slides here.
Abstract
Dr. Susan Margulies, Assistant Director for Engineering of the National Science Foundation (NSF), will discuss priorities and opportunities for engineering research and education. NSF funds frontier research and education across all fields of engineering to create fundamental knowledge. NSF support also builds capacity for engineering research and broadens and prepares a diverse future engineering workforce. In partnership with industry and communities across the nation, NSF's investments lead to innovative technologies and equitable systems for health, sustainability, agriculture, clean energy and water, resilient infrastructure, advanced manufacturing and communication, which will enhance prosperity and quality of life for all Americans. With a fiscal year 2022 budget of $8.8 billion, NSF funds reach all 50 states through grants to nearly 2,000 colleges, universities and institutions.
Biography
Dr. Margulies leads NSF's Directorate for Engineering in its mission to transform our world for a better tomorrow by driving discovery, inspiring innovation, enriching education, and accelerating access. The Engineering Directorate provides about 40 percent of the federal funding for fundamental research in engineering at academic institutions, and distributes over 2200 research awards each year. The Engineering Directorate also helps to advance NSF's Ten Big Ideas, including the Future of Work at the Human-Technology Frontier, the Quantum Leap, and NSF INCLUDES.
Dr. Margulies joined NSF as the ENG AD in August 2021 after leading Wallace H. Coulter Department of Biomedical Engineering at Georgia Tech and Emory University. She received her BSE in Mechanical and Aerospace Engineering at Princeton and PhD in Bioengineering from the University of Pennsylvania, and post-doctoral training at the Mayo Clinic. She joined the faculty at the University of Pennsylvania in 1993 as an Assistant Professor, rising through the ranks to Professor. In 2017 she became the first faculty member tenured in both the Georgia Institute of Technology and Emory University, and was a department Chair in the College of Engineering at Georgia Tech and in Emory's School of Medicine.
She is internationally recognized for pioneering studies spanning the micro-to-macro scales and across species to identify mechanisms underlying brain injuries in children and adolescents, and lung injuries associated with mechanical ventilation, leading to improved injury prevention, diagnosis and treatments. Her research program has disseminated findings in over 185 peer-reviewed publications and 3 provisional patents, and her nearly 50 clinical and engineering trainees span a range of career paths, including engineering consulting, the FDA, and research in industry, academic, and start-up settings. Dr. Margulies has launched numerous training and mentorship programs for students and faculty, created institute-wide initiatives to enhance diversity and inclusion, and has led innovative projects in engineering education.
Dr. Margulies' transdisciplinary scholarly impact has been recognized by her election as Fellow of the American Society of Mechanical Engineers, Biomedical Engineering Society, American Institute for Medical and Biological Engineering, and her election to the National Academy of Engineering and National Academy of Medicine.
Past Speakers in the Series
Monday September 13, 2021: Dr. Arvind Krishna, "The Future of Business Tech: Accelerating Discovery and Innovation With Hybrid Cloud, AI and Quantum Computing"
Monday March 22, 2021: Rep. Chrissy Houlahan, "STEM and the Future of Work"
Tuesday, February 18, 2020: Dr. Darryll J. Pines, "Aerospace Prizes Inspire the Five I's of Success"
November 16, 2018:  Gregory Powers, "Oil and Gas: Environment and Efficiency Require More Innovation Than Ever"
October 22, 2018:  Thomas Kalil, "Science and Technology Policy @ the White House"
October 9, 2018:  Ralph Izzo, "The Future of Energy"
April 17, 2017:  J. Michael McQuade, "Moving the World Forward"
April 3, 2017:  Patrick T. Harker, "Fintech: Revolution or Evolution?" [watch the archived live stream]
November 30, 2016:  Vijay Kumar, Geoffrey Garrett, Theodore Ruger, "Predicting the Future: What Will the Next Four Years Bring?" [watch the archived live stream]
November 15, 2016:  Arati Prabhakar, Director, Defense Advanced Research Projects Agency (DARPA), "Postcards From the Future: A DARPA Perspective" [watch the archived live stream]
October 15, 2015:  Matthew S. Grob, Executive Vice President Qualcomm Technologies, Inc. and Chief Technology Officer – "Your Smartphone is Your Next Robot"
February 1, 2012:  David S. Bem, Global R&D Director, The Dow Chemical Company – "Materials Innovation at Dow Impacting the Future of Energy and the Environment"
April 27, 2011: Arun Majumdar, Director, Advanced Research Projects Agency – Energy (ARPA-E) -"ARPA-E: Catalyzing Energy Breakthroughs for a Secure American Future"
November 16, 2010: Robert S. Fredell, Managing Director, Accreditation Board for Engineering and Technology (ABET) – "Critical Issues in Accreditation and Engineering Education"
December 3, 2009: Mark Zandi, Chief Economist and Cofounder, Moody's Economy.com – "The New Economic Normal: The Role of Technological Change and Universities"
February 19, 2009: Garrete E. Resiman, NASA Astronaut – "Living Aboard the International Space Station – One Quaker's Journey"
November 13, 2007: James R. Wiemels, Vice President, Global Manufacturing Engineering, General Motors Corporation – "The Journey to a Global Company"
March 20, 2006: James C. Greenwood, President, Biotechnology Industry Organization (BIO), and Former Congressman, US House of Representatives – "Living in the Biotechnology Century"
April 7, 2005: Hital R. Meswani, Executive Director of Reliance Industries Limited – "Ideas that Worked: Creation of World–class Businesses through Management of Technology"
March 15, 2005: Siegfried Bocionek, Chief Operating Officer of Siemens Medical Solutions Health Services – "The Digital Hospital: Development of Metrics-Driven Efficient Software"
March 18, 2004: Paul M. Horn, Senior Vice President and Director of Research, IBM Corporation – "Innovation in the Information Technology Industry"
December 2, 2003: Richard A. Clarke, Chairman, Good Harbor Consulting, and former Senior White House Advisor – "Critical National Infrastructure"
March 4, 2003: Richard F. Rashid, Senior Vice President of Research, Microsoft Corporation – "The Digital Experience: Emerging Technologies to Improve the Way We Live and Learn"
February 3, 2003: Congressman Curt Weldon, 7th Congressional District – "Homeland Security and the Role of Government"
March 6, 2002: Alan I. Taub, Executive Director – Science, General Motors Research and Development – "Automotive Research – The Technical Challenges and the Role of Universities for GM"
April 24, 2001: Irwin Mark Jacobs, Chairman and CEO, Qualcomm – "Wireless Access to the Internet, the Technology and the Business"
October 16, 2000: Joseph P. Nacchio, Chairman and CEO, Qwest Communications International, Inc. – "Business in the Information Age: What's New, What's Not"
October 13, 1999: George Heilmeier, Chairman Emeritus and former Chairman and CEP Telcordia Technologies – "From Pots to Pans.com – Information Systems and Technology for the Next Decade and Beyond"
April 14, 1999: Joseph Bordogna, Deputy Director Nominee and Chief Operating Officer of the National Science Foundation – "Trajectories, Inflections, and Innovation: Trends in Science, Engineering, and Technology Policy"
February 24, 1999: David J. Farber, the Alfred Fitler Moore Professor of Telecommunication Systems – "The University in the Information Age: A Technologist's Look at the Future Directions in Computing and Communications and its Impact on the University"
February 1, 1999: Congressman Curt Weldon, 7th District, Pennsylvania, Senior Member of the House Committee on Science, Chairman of the Military Research Committee – "Technology and Business in the Twenty-first Century: A Congressional Perspective"