Technology, Business and Government Distinguished Lecture Series
Recognizing an increasingly significant inter-relationship between the rapid growth of new technologies and the business and governmental sectors, this lecture series brings distinguished individuals to Penn Engineering to interact with students and faculty on broad issues affecting technology and science, research and policy.
Featured Lecture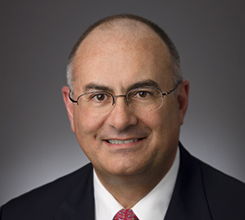 Gregory Powers
Vice President, Technology
Halliburton Company
"Oil and Gas: Environment and Efficiency Require More Innovation Than Ever"
Friday, November 16, 2018
Abstract: The oil and gas industry is difficult to understand for many. We all hear about oil price in the news, but few people understand the high technology content in the upstream industry which acts as a price increase buffer, especially since unconventional oil production has become prominent. With a consistent goal of reducing environmental impact and costs while improving productivity, this is a time where innovation is at its highest. A number of examples of where innovation is driving the industry will be discussed. The vast breadth of engineering and science competencies required to maintain oil and gas exploration and production will also be reviewed.
Bio: Gregory L. Powers, Ph.D., is Halliburton's vice president of Technology. His responsibilities include overseeing Halliburton's technology investment and intellectual asset management, the development of new products and services, and the strategy and structure of the company's global technology organization.
Dr. Powers' technology experience spans three decades of work in engineering, research and development in a broad range of industries. He has worked in many U.S. locations and extensively in Europe and Asia. Most recently, he was the executive vice president of Research, Development and Biofuels Operations for Verenium Corp., a developer and producer of specialty enzymes. Prior to that, he was vice president of Global Engineering for United Technologies' Carrier Corp., where he was responsible for all research and development and engineering activity related to heating, ventilating, air conditioning and commercial refrigeration. Dr. Powers has also worked in global technology roles for General Electric's Specialty Materials, Lighting and Plastics divisions.
Dr. Powers earned bachelor's, master's and doctoral degrees in Chemical Engineering from the University of Pennsylvania.
Past Speakers in the Series
October 22, 2018: Thomas Kalil,  "Science and Technology Policy @ the White House"
October 9, 2018: Ralph Izzo, "The Future of Energy"
April 17, 2017: J. Michael McQuade, "Moving the World Forward"
April 3, 2017: Patrick T. Harker, "Fintech: Revolution or Evolution?" [watch the archived live stream]
November 30, 2016: Vijay Kumar, Geoffrey Garrett, Theodore Ruger, "Predicting the Future: What Will the Next Four Years Bring?" [watch the archived live stream]
November 15, 2016: Arati Prabhakar, Director, Defense Advanced Research Projects Agency (DARPA), "Postcards From the Future: A DARPA Perspective" [watch the archived live stream]
October 15, 2015: Matthew S. Grob, Executive Vice President Qualcomm Technologies, Inc. and Chief Technology Officer – "Your Smartphone is Your Next Robot"
February 1, 2012: David S. Bem, Global R&D Director, The Dow Chemical Company – "Materials Innovation at Dow Impacting the Future of Energy and the Environment"
April 27, 2011: Arun Majumdar, Director, Advanced Research Projects Agency – Energy (ARPA-E) -"ARPA-E: Catalyzing Energy Breakthroughs for a Secure American Future"
November 16, 2010: Robert S. Fredell, Managing Director, Accreditation Board for Engineering and Technology (ABET) – "Critical Issues in Accreditation and Engineering Education"
December 3, 2009: Mark Zandi, Chief Economist and Cofounder, Moody's Economy.com – "The New Economic Normal: The Role of Technological Change and Universities"
February 19, 2009: Garrete E. Resiman, NASA Astronaut – "Living Aboard the International Space Station – One Quaker's Journey"
November 13, 2007: James R. Wiemels, Vice President, Global Manufacturing Engineering, General Motors Corporation – "The Journey to a Global Company"
March 20, 2006: James C. Greenwood, President, Biotechnology Industry Organization (BIO), and Former Congressman, US House of Representatives – "Living in the Biotechnology Century"
April 7, 2005: Hital R. Meswani, Executive Director of Reliance Industries Limited – "Ideas that Worked: Creation of World–class Businesses through Management of Technology"
March 15, 2005: Siegfried Bocionek, Chief Operating Officer of Siemens Medical Solutions Health Services – "The Digital Hospital: Development of Metrics-Driven Efficient Software"
March 18, 2004: Paul M. Horn, Senior Vice President and Director of Research, IBM Corporation – "Innovation in the Information Technology Industry"
December 2, 2003: Richard A. Clarke, Chairman, Good Harbor Consulting, and former Senior White House Advisor – "Critical National Infrastructure"
March 4, 2003: Richard F. Rashid, Senior Vice President of Research, Microsoft Corporation – "The Digital Experience: Emerging Technologies to Improve the Way We Live and Learn"
February 3, 2003: Congressman Curt Weldon, 7th Congressional District – "Homeland Security and the Role of Government"
March 6, 2002: Alan I. Taub, Executive Director – Science, General Motors Research and Development – "Automotive Research – The Technical Challenges and the Role of Universities for GM"
April 24, 2001: Irwin Mark Jacobs, Chairman and CEO, Qualcomm – "Wireless Access to the Internet, the Technology and the Business"
October 16, 2000: Joseph P. Nacchio, Chairman and CEO, Qwest Communications International, Inc. – "Business in the Information Age: What's New, What's Not"
October 13, 1999: George Heilmeier, Chairman Emeritus and former Chairman and CEP Telcordia Technologies – "From Pots to Pans.com – Information Systems and Technology for the Next Decade and Beyond"
April 14, 1999: Joseph Bordogna, Deputy Director Nominee and Chief Operating Officer of the National Science Foundation – "Trajectories, Inflections, and Innovation: Trends in Science, Engineering, and Technology Policy"
February 24, 1999: David J. Farber, the Alfred Fitler Moore Professor of Telecommunication Systems – "The University in the Information Age: A Technologist's Look at the Future Directions in Computing and Communications and its Impact on the University"
February 1, 1999: Congressman Curt Weldon, 7th District, Pennsylvania, Senior Member of the House Committee on Science, Chairman of the Military Research Committee – "Technology and Business in the Twenty-first Century: A Congressional Perspective"