CIS Seminar: "Achieving CSforALL through the Beauty and Joy of Computing (BJC)"
November 12, 2019 at 3:00 PM

-

4:00 PM
Abstract: 
At a time when computing is so much a part of all of our lives, has incredible job opportunities, and is so empowering, most students graduate high school without having had any introduction to computer science. A decade ago in the United States, the CSforALL movement was launched to broaden participation in computing to those traditionally underrepresented. This talk will reflect on the current state of that initiative, and introduce the "Beauty and Joy of Computing (BJC)" course, which has received worldwide attention and currently has 65% female enrolment at UC Berkeley, among the highest in the nation.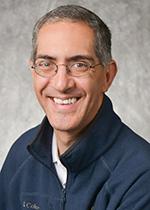 Dan Garcia
Teaching Professor in the Electrical Engineering and Computer Science department at UC Berkeley
Bio:
Dan Garcia (UC Berkeley MS 1995, PhD 2000) is a Teaching Professor in the Electrical Engineering and Computer Science department at UC Berkeley. Selected as an ACM Distinguished Educator in 2012 and ACM Distinguished Speaker in 2019, he has won all four of the department's computer science teaching awards, and holds the record for the highest teaching effectiveness ratings in the history of several of the department's courses. He has won the NCWIT Undergraduate Research Mentoring award, the UC Berkeley Unsung Hero award, the LPFI Lux award, the SAP Visionary Member award, and was chosen as a Google CS4HS Ambassador for his work to support teachers and diversify computing. He has served on the ACM Education Board, the College Board Computer Science Principles Development Committee, was the ACM SIGCSE Program co-chair in 2017, and the ACM SIGCSE Symposium co-chair in 2018. He was recently elected ACM SIGCSE Vice-Chair for the 2019-2022 term. In 2019 it was announced he was the most frequent SIGCSE author in their 50-year history, with *61* submissions of all kinds: papers, panels, workshops, posters, etc..
He is a national leader in the "CSforALL" movement, bringing engaging computer science to students normally underrepresented in the field. Locally, he serves as the CSforCA higher education co-chair. His computer science education research interests are in personalized & adaptive virtual tutors, online education tools, and assessment of computational thinking.