CBE Seminar: "Protein-integrated Electronics: From Molecules to Machines"
September 25, 2019 at 3:00 PM

-

4:00 PM
Abstract:
We are developing chemo-mechatronic systems, structures, and machines that can transduce signals between the chemical, mechanical, and electrical domains to produce intelligent behaviors in response to an external stimuli. Inspired by systems spanning from how tissues build themselves to how animals camouflage, I will discuss our molecular-level approach to building new materials that can produce tailorable and reversible transformations in response to specific chemical inputs for applications ranging from bio-photonic devices to implantable electronics.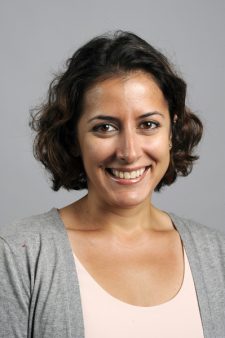 Leila Deravi, PhD
Assistant Professor of Chemistry and Chemical Biology, Northeastern University
Leila Deravi is an Assistant Professor of Chemistry at Northeastern University in Boston, MA. At Northeastern, she leads the Biomaterials Design Group – a multi-disciplinary team comprising chemists, mechanical engineers, marine biologists, and materials scientists – whose primary focus is to investigate fundamental mechanisms behind systems in biology and use this understanding to better inform the design of new classes of biomaterials that may interface with, or enhance, the performance of humans and the environment. Before her appointment at Northeastern, Leila received her PhD in Chemistry at Vanderbilt University in Nashville, TN, and completed her postdoc at Harvard University in the School of Engineering and Applied Sciences.