2021 Undergraduate and Master's Graduate Recognition
Friday, May 14, 2021 at 10:00 a.m. ET
Join us to hear a message from Dr. Vijay Kumar, Nemirovsky Family Dean of Penn Engineering, remarks from student speakers and respected alumni, and messages from professors and parents. In addition, we will host a virtual roll call for the Class of 2021 undergraduate and master's graduates and each student will be recognized with their own individual tile.
The Penn Engineering Class of 2021 virtual celebration video and roll call site will be made live on Friday, May 14 at 10:00AM ET and will remain publicly available to view at your convenience.
Engineering undergraduate and master's students who complete their degree requirements between
Dec 2020-Dec 2021 will be invited to participate in this virtual recognition. Aug 2020 CIT master's graduates will also be included.
Undergraduate Student Speaker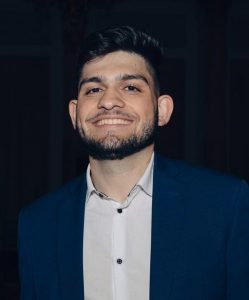 Archit Dhar (SSE'21, SE'21)
Archit Dhar, born in New Delhi, India, and raised in Naperville, Illinois, is graduating with both bachelor's and master's degrees in Systems Engineering from the School of Engineering and Applied Science at the University of Pennsylvania.
While at Penn, Archit has served as a member of the Engineering Deans' Advisory Board (EDAB), for which he served as president this past year. In addition to being a dedicated voice for undergraduate engineers as a member of EDAB, Archit has also served as the president of Sigma Alpha Mu, a member of the Nominations Elections Committee, a Perry World House Student Fellow, and a member of the Hexagon, Friars, and Oracle Senior Societies.
After graduation, Archit will be joining AQR Capital Management as a Business Development analyst in Greenwich, CT.
Master's Student Speaker
Jieying Chen (BIOT'21)
Jieying Chen, originally from Foshan, China, lived in California and Seattle for nearly 8 years before coming to Penn. She is graduating from the Master of Biotechnology program with a focus in the biopharmaceutical/engineering track.
While at Penn, Jieying has actively served as a board member in several organizations and dedicated herself to providing Penn students and postdocs with various opportunities on campus, and enhancing the quality of student life. As the secretary of Case Competition in the Penn Biotech Group (PBG) Healthcare Consulting, she played a major role in putting together the first Penn Healthcare Case Competition with participation from across the United States. As the vice president of Operations in Penn Bio Launch (PBL), she is helping to accelerate Penn biotech venture formation by connecting entrepreneurially minded people with the necessary tools. As the secretary of the Biotechnology Student Association (BSA), she has led the organization of multiple academic, cultural and social events of interest to the student community. In addition, she facilitates network building and event planning by serving as a member of the Chinese Students and Scholars Association at Penn (CSSAP) activities department.
Celebrate with us on social media:
Every year during the second week of May, we encourage our students and their families to post on social media so we can include personal photos and shoutouts in our celebrations. We would like to keep that tradition alive this year and encourage you to use the hashtags #PennEngGrad and #PennEngineeringProud on Instagram, Facebook and Twitter. We will be reposting your content on our social media channels.
Helpful Links:
Further Information:
Please direct general ceremony questions to the Dean's Office at seasdean@seas.upenn.edu.