2021 Undergraduate and Master's Graduate Recognition
Friday, May 14, 2021 at 10:00 a.m. ET
Access Livestream
Join us to hear a message from Dr. Vijay Kumar, Nemirovsky Family Dean of Penn Engineering, remarks from student speakers and respected alumni, and messages from professors and parents. In addition, we will host a virtual roll call for the Class of 2021 undergraduate and master's graduates and each student will be recognized with their own individual tile.
The Penn Engineering Class of 2021 virtual celebration video and roll call is available here.

Engineering undergraduate and master's students who completed their degree requirements between Dec 2020-Dec 2021 were invited to participate in this virtual recognition. Aug 2020 CIT master's graduates were also included.
Undergraduate Student Speaker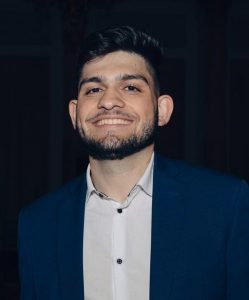 Archit Dhar (SSE'21, SE'21)
Archit Dhar, born in New Delhi, India, and raised in Naperville, Illinois, is graduating with both bachelor's and master's degrees in Systems Engineering from the School of Engineering and Applied Science at the University of Pennsylvania.
While at Penn, Archit has served as a member of the Engineering Deans' Advisory Board (EDAB), for which he served as president this past year. In addition to being a dedicated voice for undergraduate engineers as a member of EDAB, Archit has also served as the president of Sigma Alpha Mu, a member of the Nominations Elections Committee, a Perry World House Student Fellow, and a member of the Hexagon, Friars, and Oracle Senior Societies.
After graduation, Archit will be joining a quantitative hedge fund as a Business Development analyst in Greenwich, CT.
Master's Student Speaker
Jieying Chen (BIOT'21)
Jieying Chen, originally from Foshan, China, lived in California and Seattle for nearly 8 years before coming to Penn. She is graduating from the Master of Biotechnology program with a focus in the biopharmaceutical/engineering track.
While at Penn, Jieying has actively served as a board member in several organizations and dedicated herself to providing Penn students and postdocs with various opportunities on campus, and enhancing the quality of student life. As the secretary of Case Competition in the Penn Biotech Group (PBG) Healthcare Consulting, she played a major role in putting together the first Penn Healthcare Case Competition with participation from across the United States. As the vice president of Operations in Penn Bio Launch (PBL), she is helping to accelerate Penn biotech venture formation by connecting entrepreneurially minded people with the necessary tools. As the secretary of the Biotechnology Student Association (BSA), she has led the organization of multiple academic, cultural and social events of interest to the student community. In addition, she facilitates network building and event planning by serving as a member of the Chinese Students and Scholars Association at Penn (CSSAP) activities department.
Alumni Speakers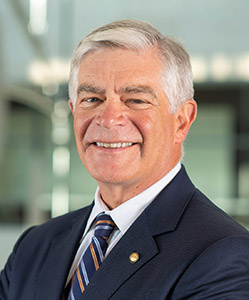 Patrick T. Harker (CivEng'81, PhD'83)
President and Chief Executive Officer of the Federal Reserve Bank of Philadelphia
Patrick T. Harker took office on July 1, 2015, as the 11th president and chief executive officer of the Federal Reserve Bank of Philadelphia. He was reappointed for his second five-year term effective March 1, 2021. In this role, Harker participates on the Federal Open Market Committee, which formulates the nation's monetary policy.
As an engineer by training, Harker has continued to apply his research and receive patents throughout his career. He considers the effect of automation on the labor force as "the perfect intersection" of engineering and economics. Other technological influences, including artificial intelligence and machine learning, are also playing a part in the Third District's and the nation's economy. By focusing on economic mobility, one of the Bank's research priorities, the Bank's researchers are looking for ways to create sustained, inclusive growth through practical applications. Targeting such research to the employment field can help workers, communities, and industries plan for inevitable disruptions by connecting workers to training programs while encouraging discussions on the skills that are vital to a constantly changing market.
Before taking office at the Philadelphia Fed, Harker was the 26th president of the University of Delaware. He was also a professor of Business Administration at the university's Alfred Lerner College of Business and Economics and a professor of Civil and Environmental Engineering at the College of Engineering.
Before joining the University of Delaware in 2007, Harker was dean and Reliance Professor of Management and Private Enterprise at the Wharton School of the University of Pennsylvania. Prior to being appointed dean in 2000, Harker was the Wharton School's interim dean and deputy dean as well as the chair of its Operations and Information Management department. In 1991, he was the youngest faculty member in Wharton's history to be awarded an endowed professorship as UPS Transportation Professor of the Private Sector. He has published/edited nine books and more than 100 professional articles. From 1996 to 1999, he served as editor-in-chief of the journal Operations Research.
In 2012, Harker was named a fellow of the Institute for Operations Research and the Management Sciences (INFORMS) and a charter fellow of the National Academy of Inventors. He was also named a White House Fellow by President George H. W. Bush in 1991 and was a special assistant to FBI Director William S. Sessions from 1991 to 1992.
Harker is a board member of both the Chamber of Commerce for Greater Philadelphia and its Select Greater Philadelphia Council. He is also a board member at the Science Center in Philadelphia. Previously, he was on the boards of Catholic Relief Services, Pepco Holdings, Inc., and Huntsman Corporation and was a founding member of the board of advisors for Decision Lens, Inc. He was also a nonbanking Class B director of the Philadelphia Fed from 2012 to 2015. Harker has a Ph.D. in Civil and Urban Engineering, an M.A. in Economics, and an M.S.E. and B.S.E. in Civil Engineering, all from the University of Pennsylvania.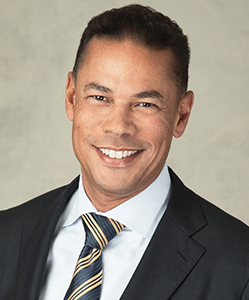 Lloyd W. Howell, Jr. (EE'88)
Chief Financial Officer and Treasurer of Booz Allen Hamilton, Inc.
Lloyd Howell Jr. is Booz Allen's chief financial officer and treasurer. He is responsible for the firm's financial statements, capital structure, and related financial operations. He previously led the firm's Civil and Commercial business.
Howell joined Booz Allen in 1988 as a consultant and provided systems engineering support to multiple Department of Defense (DoD) satellite programs. In 1991, he took a leave of absence from the firm to earn an M.B.A. from Harvard University, and was then hired by Goldman Sachs as an associate in their investment banking division between 1993 and 1995.
He returned to Booz Allen in 1995, becoming a member of the strategy and organization team where he focused on DoD clients, specifically, the Navy/Marine Corps, Army and Office of the Secretary of Defense. In 2000, he was named a vice president.
From 2005 to 2008, he led the firm's Strategy and Organization practice supporting both international and domestic commercial and public sector clients. From 2009 to 2013, he served as the client service officer of the financial services account, and has served on the firm's leadership team since 2007. From 2013 to 2016, he led Booz Allen's Civil and Commercial business, working on strategic, technology, and analytics projects.
Howell's federal clients included the U.S. Department of Treasury and its bureaus, Securities and Exchange Commission, Federal Reserve, Pension Benefit Guaranty Corporation and the Commodity Futures Trade Commission. His commercial clients included companies within the top 50 global financial institutions and significant stock exchanges.
In 2021, Howell was elected to the board of directors for Moody's Corporation. He is also a member for the Washington Economics Club and serves as a Trustee at the University of Pennsylvania and on the Board of Advisors of the School of Engineering and Applied Science .
Howell holds a B.S. in Electrical Engineering from the University of Pennsylvania and an M.B.A. from Harvard University. He received the Black Engineer of the Year Award in 2011 and was the winner of the BEYA organization's Professional Leadership in Industry award in 2010.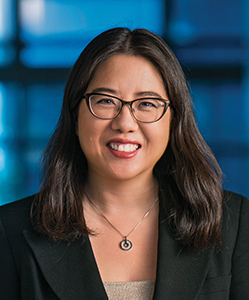 Vanessa Z. Chan (MSE'94)
Jonathan and Linda Brassington Practice Professor of Innovation and Entrepreneurship
Currently on leave to serve in the Biden Administration
Dr. Vanessa Z. Chan is on leave from the University of Pennsylvania (where she was the Jonathan and Linda Brassington Professor of Practice and the Undergraduate Chair of the Materials Science and Engineering department) to join the Biden administration. She currently is the Chief Commercialization Officer for the Department of Energy and Director of the Office of Technology Transitions where she is responsible for expanding the commercial impact of the research investments made by the DOE.
Dr. Chan has two decades of experience helping organizations grow at the interface of technology and business, across a diverse set of industries. First as a partner at McKinsey & Company where she co-led the innovation practice and spent 13 years with companies spending billions of dollars on innovation, helping them commercializing their technologies at scale. Second as an angel investor where she invested in over a dozen companies and sat on the boards of five startups, helping them to create partnerships with big companies to harness their infrastructure to bring these new technologies to market. Third as a former member of both UTC & Vanguard's innovation boards, where she helped them to think about how to evolve their business models, so that decades on, they will still be relevant in their markets.
Dr. Chan is also someone who has broken many ceilings in her career. She was the first woman and the first East Asian elected partner in McKinsey's North American Chemicals practice. She also is the first woman and first Asian serving as the Undergraduate Chair for the Materials Science and Engineering department at Penn and the first Professor of Practice awarded an endowed chair in Penn Engineering.
Dr. Chan earned her Ph.D. in Materials Science and Engineering from the Massachusetts Institute of Technology and is a proud alum of Penn Engineering, having earned her B.S.E. in Materials Science and Engineering in 1994.
Celebrate with us on social media:
Every year during the second week of May, we encourage our students and their families to post on social media so we can include personal photos and shoutouts in our celebrations. We would like to keep that tradition alive this year and encourage you to use the hashtags #PennEngGrad and #PennEngineeringProud on Instagram, Facebook and Twitter. We will be reposting your content on our social media channels.
Helpful Links:
Further Information:
Please direct general ceremony questions to the Dean's Office at seasdean@seas.upenn.edu.