ESE Seminar: "New Designer Materials: Sculpting Electromagnetic Fields on the Atomic Scale"
February 26, 2019 at 11:00 AM

-

12:00 PM
New optical nanomaterials hold the potential for breakthroughs in a wide range of areas from ultrafast optoelectronics such as modulators, light sources and hyperspectral detectors, to efficient upconversion for energy applications, bio-sensing and quantum information science. An exciting opportunity to realize such new nanomaterials lies in controlling the local electromagnetic environment on the atomic- and molecular-scale (~1-10 nm), which enables extreme local field enhancements. We use creative nanofabrication techniques at the interface between chemistry and physics to realize this new regime together with ultrafast optical techniques to probe the emerging phenomena. Here, I will provide an overview of our recent research including high-speed thermal photodetectors, ultrafast spontaneous emission and metasurface-enhanced biosensors.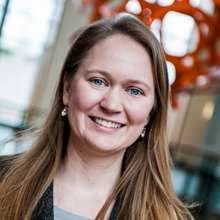 Maiken H. Mikkelsen
Assistant Professor, Electrical and Computer Engineering and Physics
Maiken H. Mikkelsen is the James N. and Elizabeth H. Barton Associate Professor at Duke University in the Departments of Physics, Electrical & Computer Engineering, and, by courtesy, Mechanical Engineering & Materials Science. Currently, she is a Visiting Associate Professor at Stanford University in the Department of Materials Science & Engineering. She received her B.S. from the University of Copenhagen in 2004, her Ph.D. in Physics from the University of California, Santa Barbara in 2009 and was a postdoctoral fellow at the University of California, Berkeley. Her research focuses on nanophotonics and quantum materials to enable transformative breakthroughs for optoelectronics, the environment and human health. Her awards include the Maria Goeppert Mayer Award from the American Physical Society, the Early Career Achievement Award from SPIE, the NSF CAREER award, the Cottrell Scholar Award from the Research Corporation for Science Advancement and Young Investigator Program Awards from the ONR, ARO and AFOSR.