Thriving in a Start-Up Ecosystem: Success and Failure in the Life of an Entrepreneur
October 2, 2019 at 6:30 PM

-

8:00 PM
We invite you to join an exclusive event with Penn Engineering alumni who will share their stories on how they have thrived in the startup ecosystem. These alums range from an angel investor in Uber, a serial biotech entrepreneur with several exits, an entrepreneur who has generated over half a billion in licensing deals and one of the top 100 VCs in the world. We hope you can join Dawn Eringis ENG'85 WG'89, Joan Lau ENG'92 W'92, Nihal Mehta C'99 ENG'99, and David Pakman ENG'91, in what promises to be a candid conversation moderated by Professor Vanessa Chan ENG'94.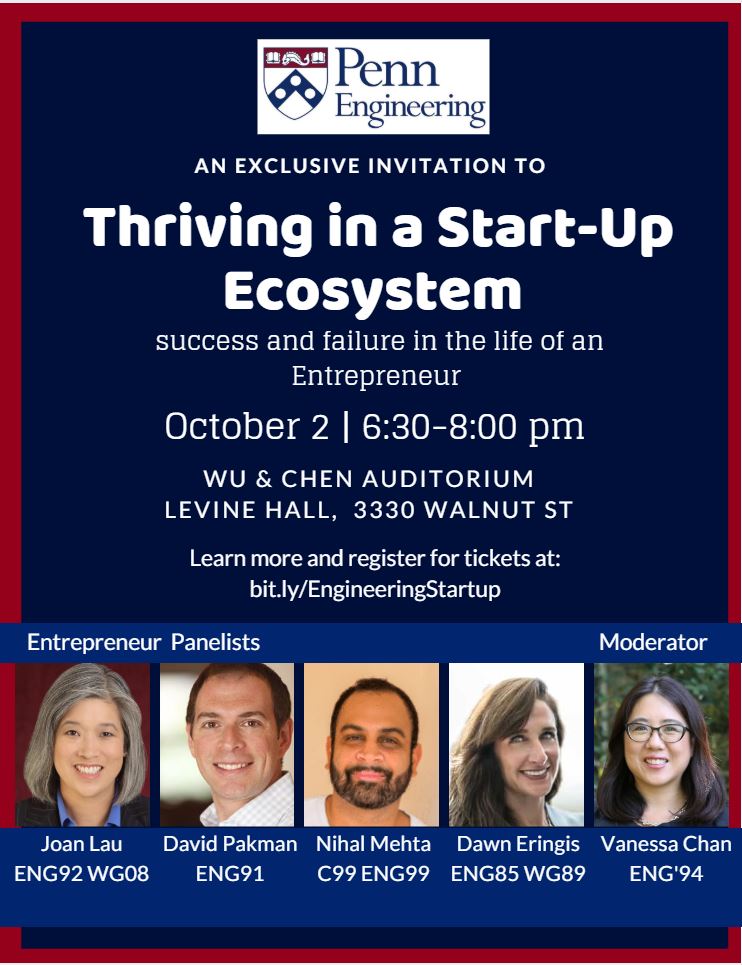 Joan Lau (ENG'92,WG'08), David Pakman (ENG'91), Nihal Mehta (C'99, ENG'99), & Dawn Eringis (ENG'85, WG'89)
Dawn Eringis ENG'85 WG'89
Dawn Eringis serves as Business Development Officer for Integral Molecular. She brings over 25 years of biotechnology/pharmaceutical industry experience encompassing major pharmaceutical to start-up biotechnology companies. Her career has spanned positions in business development, strategic planning, commercialization, marketing, and product management. Ms. Eringis has led or been directly involved in over $500 million worth of corporate licensing deals in the healthcare industry, encompassing both in-licensing and out-licensing of preclinical assets. She previously co-founded and served as V.P. of Business Development and Scientific Affairs for the biotechnology company PolyMedix and served as Director of Business Development for Locus Pharmaceuticals. She holds an M.B.A. from the Wharton School of Business, and a BSE in Chemical Engineering from the University of Pennsylvania.
Joan Lau ENG'92, WG'08
Joan Lau is currently CEO of Spirovant, a gene therapy company with a focus on cystic fibrosis, and Founding Partner of Militia Hill Ventures, a business focused on building and growing high-quality life sciences companies. Dr. Lau has been a CEO of numerous biotech companies ranging from discovery to treatment of diseases and serves on various community and industry boards, including RiboNova, BioMotiv, the Vagelos Program in Life Sciences Management (U. Penn), and the Masters in Biotechnology (Temple U.). Previous board roles include president of the Alliance of Women Entrepreneurs (PA) and chair of the Human Rights Campaign (DC).
Dr. Lau earned an MBA from the Wharton School of Business at the University of Pennsylvania, a PhD in Neuroscience from the University of Cincinnati College of Medicine and a BSE in Bioengineering from the University of Pennsylvania.
Nihal Mehta C'99 ENG'99
At Eniac they call Nihal Mehta the human Rolodex, thanks to the thousands of connections he has made with some of the world's top companies and brands. He developed many of these connections over the past 20+ years while founding five different tech startups. Prior to founding Eniac, Mr. Mehta was the founding CEO of LocalResponse, where he grew revenues 2153% in three years and landed them on Inc. 5000's Fastest Growing Companies. He also was the founding CEO for buzzd, the first real-time mobile cityguide, and ipsh!, one of the first full-service mobile marketing agencies in 2001, which was acquired by Omnicom (NYSE: OMC) in 2005. Early in his career, he honed his ability to spot top entrepreneurial talent by investing in Admob (acquired by Google), Swiftkey (acquired by Microsoft), Tapad (acquired by Telenor), Tala, and Uber to name a few. Because of his experience both building and funding top technologies, he frequently guest lectures at business schools around the country on entrepreneurship and mobile marketing and is published in over 15 books and white papers on the subject. Mr. Mehta graduated from the University of Pennsylvania with a BA in Philosophy and a BSE in Computer Science Engineering.
Moderator:  Vanessa Chan ENG '94
Vanessa Z. Chan is an Entrepreneur, Board Member, Angel Investor, Keynote Speaker and Educator who has spent over 20 years innovating. She is currently at the University of Pennsylvania, where she is Professor of Practice in Innovation and Entrepreneurship, the Undergraduate Chair of Materials Science & Engineering and a member of the Executive Committee of Penn Health Tech. Prior to Penn she was a McKinsey & Company partner, where she co-led their innovation practice. After McKinsey, she invented consumer products, and competed on the Today Show's Next Big Thing which led to her selling Loopit, her tangle-free headphones on QVC. Dr. Chan is a renowned speaker who inspires others to adopt a growth mindset by embracing failure as a catalyst for change and you can find her very well received 2018 Penn Engineering Commencement speech at www.failingislikefarting.com. She also is a partner at Robin Hood Ventures (an angel investing group), on the Advisory Board of several startups, co-President of Ellevate Network's Philadelphia Chapter, a founding member of the Innovation Advisory Council for United Technology Corporation and a member of the Board of Trustees for both the Kimmel Center and Springside Chestnut Hill Academy. Dr. Chan earned her Ph.D. from MIT and a BSE from the University of Pennsylvania, both in Materials Science and Engineering.