Technology, Business and Government Lecture Series: Aerospace Prizes Inspire the Five I's of Success
February 18, 2020 at 3:00 PM

-

4:00 PM
The United States' future economic growth and competitiveness depend on our capacity to inno­vate. Americans believe that it is possible to create jobs in the aerospace and defense industry by doing what the United States does well, which is cultivating the creativity and innovative processes developed by its people. Innovation and entrepreneurship in the aerospace and defense industries have historically kept the US at the forefront of technology advances, which has spurred economic growth, and created entirely new industries such as commercial transportation of cargo and humans, uninhabited aerial systems for civilian and military missions, and more recently private commercial space.  Where would we be without aviation pioneers and innovators such as Amelia Earhart, Glenn L. Martin, William Boeing, Charles Lindbergh, Igor Sikorsky and Elon Musk?  A key catalyst that inspires innovation and entrepreneurship in the aerospace field has been the establishment of aerospace prizes and competitions to accelerate the five I's:  imagination, invention, innovation, investment, and impact.  This presentation details three aerospace prizes that not only advanced technology in the aerospace field, but also spurred significant job growth and economic development in the United States.  More importantly, these prizes often attracted a new generation of students and technology innovators to the field with the hope of becoming the first to win a prize, while making a significant contribution to the aerospace field and to society.
This lecture is part of Penn Engineering's Technology, Business, and Government Lecture Series. Recognizing an increasingly significant inter-relationship between the rapid growth of new technologies and the business and governmental sectors, the Technology, Business and Government Lecture Series brings distinguished individuals to Penn Engineering to interact with students and faculty on broad issues affecting technology and science, research and policy.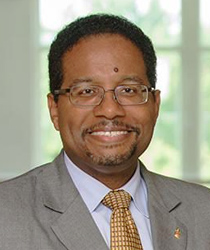 Darryll J. Pines
Dean and Farvardin Professor of Aerospace Engineering, A. James Clark School of Engineering, University of Maryland
Dr. Darryll J. Pines is the Nariman Farvardin Professor of Engineering and Dean of the A. James Clark School of Engineering at the University of Maryland, a position he has held since January 2009. Dr. Pines' current research focuses on structural dynamics, including structural health monitoring and prognosis, smart sensors, and adaptive, morphing and biologically-inspired structures as well as the guidance, navigation, and control of aerospace vehicles.
In the past decade, Dr. Pines has become active in issues related to P-12 engineering education. He currently leads a team of academic institutions on a National Science Foundation-funded project to develop a national pilot high school course in engineering aimed at every high school student. The program is named Engineering For US All, or E4USA. The goal is to install this course in 75 high schools across the U.S. in 2020.
Dr. Pines is the co-author of over 70 journal articles, three edited book volumes, eight book chapters, and 160 conference papers. He has co-authored seven patents with his students and collaborators. Additionally, he is a Fellow of the American Institute of Aeronautics and Astronautics (AIAA), Fellow of the American Society of Mechanical Engineers (ASME), and Fellow of the Institute of Physics. In 2015, Dr. Pines received the State of Maryland House Speaker's Medallion, which honors those who have had a significant impact on the well-being of the citizens of the state of Maryland. More recently, Dr. Pines was elected into the 2019 class of the National Academy of Engineering (2019) for his contributions to engineering education– the highest honor that can be bestowed upon a member of the field of engineering.
Dr. Pines received a B.S. in mechanical engineering from the University of California, Berkeley. He earned M.S. and Ph.D. degrees in mechanical engineering from the Massachusetts Institute of Technology.