MEAM Seminar: "Engineering Solutions for Tough Problems in Trauma: From Occlusion Balloons to Decision-Support"
October 20, 2020 at 10:30 AM

-

12:00 PM
Acute hemorrhage and hemorrhagic shock result in approximately 60,000 annual deaths in the United States. The vast majority of these deaths are in severely injured patients, but experts in trauma care believe many of these deaths can actually be prevented. Efforts focused on injury prevention and pre-emptive intervention have produced some improvements in survival. However, for those who sustain severe injuries, a range of engineering solutions could mitigate the risk of death from hemorrhage.
In this talk, I will review the current epidemiology of acute hemorrhage and our understanding of hemorrhagic shock. I will then explore several recent innovations designed to stop acute hemorrhage and guide teams in real-time management: balloon aortic occlusion and hemorrhage decision support. These innovations will be discussed in the context of the regulatory hurdles that must be navigated to bring these and other similar innovations to the bedside.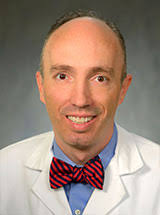 Jeremy W. Cannon
Associate Professor, Department of Surgery, Perleman School of Medicine, University of Pennsylvania
Jeremy Cannon is an Associate Professor of Surgery at Penn. He is board certified in General Surgery and Surgical Critical Care. He is a graduate of the US Air Force Academy and Harvard Medical School. During his surgical training at Beth Israel Deaconess Medical Center in Boston, MA, he also earned a Master of Science in Mechanical Engineering from MIT. Following his fellowship in Surgical Critical Care at Children's Hospital Boston, he served on active duty in the US Air Force and deployed to both Iraq and Afghanistan as a trauma surgeon. In 2015, he joined the Penn faculty where he specializes in the treatment of traumatic injury, emergency general surgery conditions, and surgical critical care. His research interests include improving outcomes from hemorrhagic shock, developing technology for the treatment of acutely injured patients, and military-civilian healthcare and training partnerships, with a specific interest in using quality metrics to identify opportunities for improvement in combat casualty systems of care.