Penn Engineering 2021-22 Heilmeier Award Lecture: Ritesh Agarwal
October 4, 2022 at 3:30 PM

-

4:30 PM
"Utilizing Quantum Geometry and Topology for Enabling Integrated Chiral Photonics"
Classical and quantum computing devices need to ferry vast amounts of data, and optical interconnects provide a promising approach allowing faster speeds and larger bandwidths. Critical interconnect components are light sources, waveguides and detectors. Currently, the information is encoded in intensity and frequency but other degrees of freedom (DOFs) such as photon spin and spatial orbital angular momentum modes (OAM) should be utilized to enhance the capacity of optical links. Therefore, new photonic materials and devices that can produce, transmit and detect light with complex polarization and spatial modes are needed. This is non-trivial as most materials are insensitive to chiral light. In this talk, Dr. Agarwal will discuss recent developments towards the development of on-chip lasers, waveguides and photodetectors that are sensitive to photon spin and OAM modes. By protecting or breaking certain symmetries and utilizing the quantum geometry of the engineered system, new devices will be discussed that can enable the development of integrated chiral photonic systems.
Read the full award announcement here. More information about the Heilmeier Award can be found here.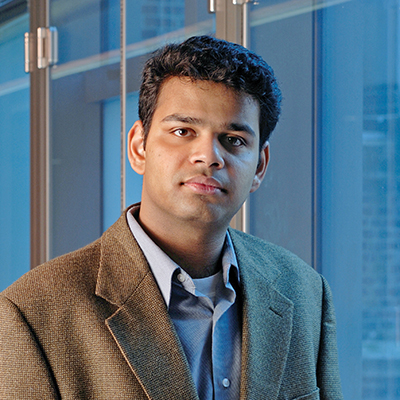 Ritesh Agarwal
Professor, Department of Materials Science and Engineering, Penn Engineering
Ritesh Agarwal is a professor in the Department of Materials Science and Engineering in the School of Engineering and Applied Science at the University of Pennsylvania. He obtained a B.S./M.S. from the Indian Institute of Technology Kanpur, an M.S. from the University of Chicago and a Ph.D. from UC Berkeley, followed by a postdoctoral fellowship at Harvard. His research interests include investigating structural, optical and electronic properties of low-dimensional systems and the development of new probes to study complex phases of matter. Recently, his group has focused on studying the role of quantum geometry and topology in electronic and optical systems and to engineer light-matter interactions to fabricate on-chip chiral photonic devices. Dr. Agarwal is the recipient of the NSF CAREER, the NIH Director's New Innovator and the SPIE Nanoengineering Pioneer Awards. He was elected a Fellow of the Optical Society of America in 2020.