ESE Fall Colloquium Seminar – "Transforming Ideas to Reality: Emerging Nanotechnologies from the "Lab" to the "Fab""
October 28, 2021 at 10:30 AM

-

11:30 AM
Emerging nanotechnologies promise to enable a wide-range of next-generation applications – from energy-efficient computing to personalized healthcare. Yet many emerging nanotechnologies face substantial inherent imperfections and variations that have rendered making working systems – and therefore the next-generation applications they promise to enable – infeasible. In this talk, I will describe how by computing advances across the entire stack – from nanomaterial synthesis to new processing techniques, circuit design methodologies, architectures, and novel systems – these challenges can be overcome to realize the first large-scale and complex electronic systems leveraging beyond-silicon emerging nanotechnologies. As a case-study, I will describe the journey of transforming carbon nanotubes from an interesting scientific nanomaterial in academic labs into the foundation for realizing novel systems and applications that can impact our daily lives, such as the first beyond-silicon microprocessor for energy-efficient computing and novel diagnostic tools for rapid and accurate disease diagnostics. I will conclude by describing how these emerging nanotechnologies are currently being transferred from the "lab" to multiple commercial "fabs", promising a new and exciting age for electronics and the systems and applications they can enable.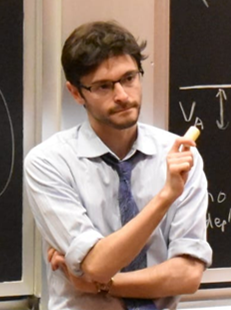 Max Shulaker
Associate Professor in the Department of Electrical Engineering and Computer Science at MIT
Max Shulaker is an Associate Professor in the Department of Electrical Engineering and Computer Science, where he leads the NOVELS (Novel Electronic Systems Group) at MIT. His passion lies in transforming fundamental scientific advances into working systems that promise to impact and improve our daily lives. His research group focuses on the broad area of nanosystems: understanding and optimizing multidisciplinary interactions across the entire stack. Key breakthroughs from his group range from novel nanomaterial fabrication processes and circuit designs for emerging nanotechnologies, up to new system architectures. Through their unique approach, Prof. Shulaker and his students have demonstrated some of the most advanced beyond-silicon electronic systems realized to-date, with applications ranging from next-generation computing systems that promise orders of magnitude gains in efficiency to improving healthcare by enabling rapid diagnosis of infectious diseases. Prof. Shulaker's recognitions and honors include multiple fellowships (such as the Hertz Fellowship and Moore Inventor Fellowship), several young faculty and young career awards, and numerous award-winning publications at major journals and venues.