Closing the Gap between Theory and Practice: Rethinking Engineering Education in Real Time
April 23, 2020 at 3:00 PM

-

4:00 PM
Despite 20 years of focus on organizational change and effective educational best practices in STEM higher education, significant research findings have had minimal influences on practice.  In 2016, the U-M BME Department sought to disrupt engineering education. Informed by organizational change theory, we asked: 1) Is there potential for change; 2) what strategies facilitate change; and 3) how can these strategies be implemented? As a result, we developed an Instructional Design Sequence, a new approach to instruction in which students, post docs, and faculty create short Modules that use evidence-based teaching practices to expose BME students to BME professional practice.  This talk describes how the Sequence was conceived of and demonstrates how organizational theory, entrepreneurship, and design can be used to inform education practice. The resultant Sequence has the potential to be a transferrable model for transforming engineering education, offering a new mechanism for integrating career relevant curriculum into undergraduate curriculum in real-time, while training future educators in instructional evidence based practices.
This lecture is offered as part of the Lecturers' Seminar on Teaching and Learning.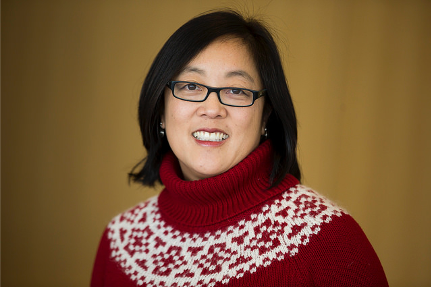 Aileen Huang-Saad, Ph.D.
Assistant Professor of Biomedical Engineering, Entrepreneurship, and Engineering Education, University of Michigan
Dr. Huang-Saad is faculty in the Department of Biomedical Engineering and Engineering Education at University of Michigan. Dr. Huang-Saad has a twelve-year history of bringing about organizational change in higher education, leveraging evidence-based practices. She created the U-M BME graduate design program, co-founded the U-M College of Engineering Center for Entrepreneurship, launched the U-M National Science Foundation (NSF) I-Corps Node, and developed the U-M BME Instructional Incubator. She is a canonical instructor for both the NSF and National Institute of Health (NIH) I-Corps Programs. Dr. Huang-Saad has received numerous awards for her teaching and student advising, including the 1938E College of Engineering Award, the Thomas M. Sawyer, Jr. Teaching Award, the U-M ASEE Outstanding Professor Award, the International Teaching with Sakai Innovation Award, and the College of Engineering Outstanding Student Advisor Award.
Dr. Huang-Saad's current research areas are entrepreneurship, innovation, and transforming higher education.  She is funded by the NSF to explore the influence of the microenvironment of entrepreneurship education on the engagement of women, entrepreneurial ecosystems, and fostering graduate student professional development.
Prior to joining the University of Michigan faculty, Dr. Huang-Saad worked in industry gaining experience in new venture biotech, the defense industry, and medical device testing.  She has a Bachelor's of Science in Engineering from the University of Pennsylvania, a Doctorate of Philosophy from The Johns Hopkins University School of Medicine, and a Master of Business Administration from University of Michigan Ross School of Business.